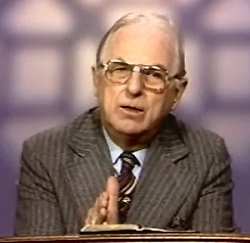 This collection is currently under construction. Please come back soon to check for updates.
Verna Elisha (V.E.) Howard, through the influence of brother J. L. Hines, began attending the church of Christ. Six months after he was baptized into Christ in October 1930, V.E. decided that he wanted to preach the Gospel. In the fall of 1931, he attended Abilene Christian College to study Bible. The next year he studied at Harding College in Arkansas. After preaching for five years, V.E. decided to devote himself full-time to radio evangelism and conducting gospel meetings.
During his lifetime V.E. preached in gospel meetings throughout the United States and baptized more than 8000 people. In 1995, after sixty-one years of broadcasting, he discontinued his radio work at the advice of his doctors and transferred the International Gospel Hour to the elders of the West Fayetteville congregation in Fayetteville, Tennessee.
Sermons
The Two Builders, VE Howard
The Wise Man and the Foolish Man #1, VE Howard
The Wise Man and the Foolish Man #2, VE Howard
The Witness of the Blood, VE Howard
The Word of the Lord Is Piercing, VE Howard
To Whom Shall We Go?, VE Howard
Vain Religion, VE Howard
What does the Bible teach about hell? #1, VE Howard
What does the Bible teach about hell? #2, VE Howard
What does the Bible teach about hell? #3, VE Howard
What Is Christianity? #1, VE Howard
What Is Christianity? #2, VE Howard
What Is Christianity? #3, VE Howard
What Is the Bible? #1, VE Howard
What Is the Bible? #2, VE Howard
What Is the Bible? #3, VE Howard
What Must I Do To Be Saved?, VE Howard
When Faith Is Under Fire #1, VE Howard
When Faith Is Under Fire #2, VE Howard
When Faith Is Under Fire #3, VE Howard
When Faith Is Under Fire #4, VE Howard
Where Are the Dead? #1, VE Howard
Where Are the Dead? #2, VE Howard
Where Will You Spend Eternity?, VE Howard
Why Be A Christian Only?, VE Howard
Why Does God Require Obedience?, VE Howard
Why Not Speak Like the Bible Speaks?, VE Howard
You Know #1, VE Howard
You Know #2, VE Howard