Volume 2 (2021)
Full Issue
Front Matter
Editorial
Features
Articles
Back Matter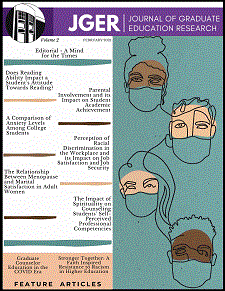 Editors
Editor-in-Chief

Kaci D. Miller

Assistant Editor-in-Chief

Alea Sweeting

Assistant Editor-in-Chief

Rachel H. Henningsen

Editor

Huan Chen

Editor

Erin Hasler

Faculty Advisor

Usenime Akpanudo, Ed.D.
CALL FOR SUBMISSIONS
You have the opportunity to submit a manuscript to the Journal of Graduate Education Research (JGER) We welcome submissions in the following areas:
Original research
Opinions/commentaries on social or academic issues
Submissions for Volume 3 will be accepted until the end of December 2021.
Please do not hesitate to contact me if you have any questions about JGER or the submission process.
Dr. Usenime Akpanudo Faculty Advisor uakpanud@harding.edu