Volume 9 (2020)
Tenor of Our Times is an annual journal publishing the work of current and past Harding students on historical and social science topics. The journal title originates with former History and Social Science department chairman, Raymond Muncy, who often said, "Historians reflect the tenor of their times." A student-managed publication supported by a faculty editorial board, Tenor is designed to encourage undergraduate scholarship in understanding the past and present. The journal includes the winners of the Raymond L. Muncy Scholarship from the previous academic year and other quality submissions.
Section 1: The Calm Before the Storm
Section 2: The Room Where It Happens: Political Response to a Crisis
Section 3: Build Your Kingdom Here: Faith Communities in a Crisis
Section 4: E Pluribus Unum: Identity in a Community
Section 5: The Times that Try Men's Souls: Navigating a Crisis
Section 6: Our Community in a Time of Crisis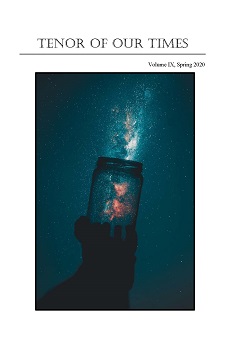 Editors
Managing Editor

Grady Moore

Copy Editor

Rebecca Burrows

Art & Layout Editor

Morgan Tallant

Student Review Board Editor

Kaylee Rice

Advertising Editor

Collin Barnett
RAYMOND L. MUNCY SCHOLARSHIP
The Raymond L. Muncy Scholarship is a one-time financial award for those undergraduate students at Harding University majoring in History who demonstrate exceptional scholarship, research, and Christian character. The scholarship was created to honor the late Raymond L. Muncy, chairman of the Department of History and Social Sciences from 1965-1993. His teaching, mentoring, and scholarship modeled the best in Christian education. Applied toward tuition, the award is granted over the span of a single academic year and is presented annually at the Department of History and Political Science Banquet.
The 2019 Muncy Scholarship Winners: Austin Taylor's "The Cogdill-Woods Debate and Attitudes Toward the Institutional Crisis Within the Church of Christ" received first place, and Brijana Sullivan's "Stefan Nemanja: A Brief Overview of His Main Contributions to Christianity in Medieval Serbia, the Serbian Orthodox Church, and the Serbian National Identity" placed second.